Miami's Top 10 Beachfront Hotels: Where Luxury Meets Seaside Bliss
Step into a world where sun-kissed shores meet opulent indulgence – welcome to the sun-drenched haven of Miami's finest beachfront hotels. With its vibrant culture, radiant beaches, and pulsating energy, Miami stands as a beacon of allure for those seeking the perfect blend of luxury and seaside charm.
Just like stepping onto the shores of a paradise, Miami offers a resplendent escape that captures the heart and imagination. From the gentle lapping of turquoise waves to the glitz and glamour of its art-deco architecture, this iconic city radiates a unique ambiance that's impossible to resist.
In this article, we invite you to embark on a journey through the Top 10 beachfront hotels in Miami – a carefully curated collection of coastal sanctuaries where upscale living and the coastal breeze converge. As you immerse yourself in the hotels ahead, you'll discover the epitome of relaxation and elegance, where the art of hospitality harmonizes flawlessly with the rhythm of the ocean. So, get ready to explore the best of the best of Miami's beachside retreats, where every stay promises to be a symphony of comfort, sophistication, and pure beachfront enchantment.
1- Four Seasons Hotel at The Surf Club, Surfside, Florida *****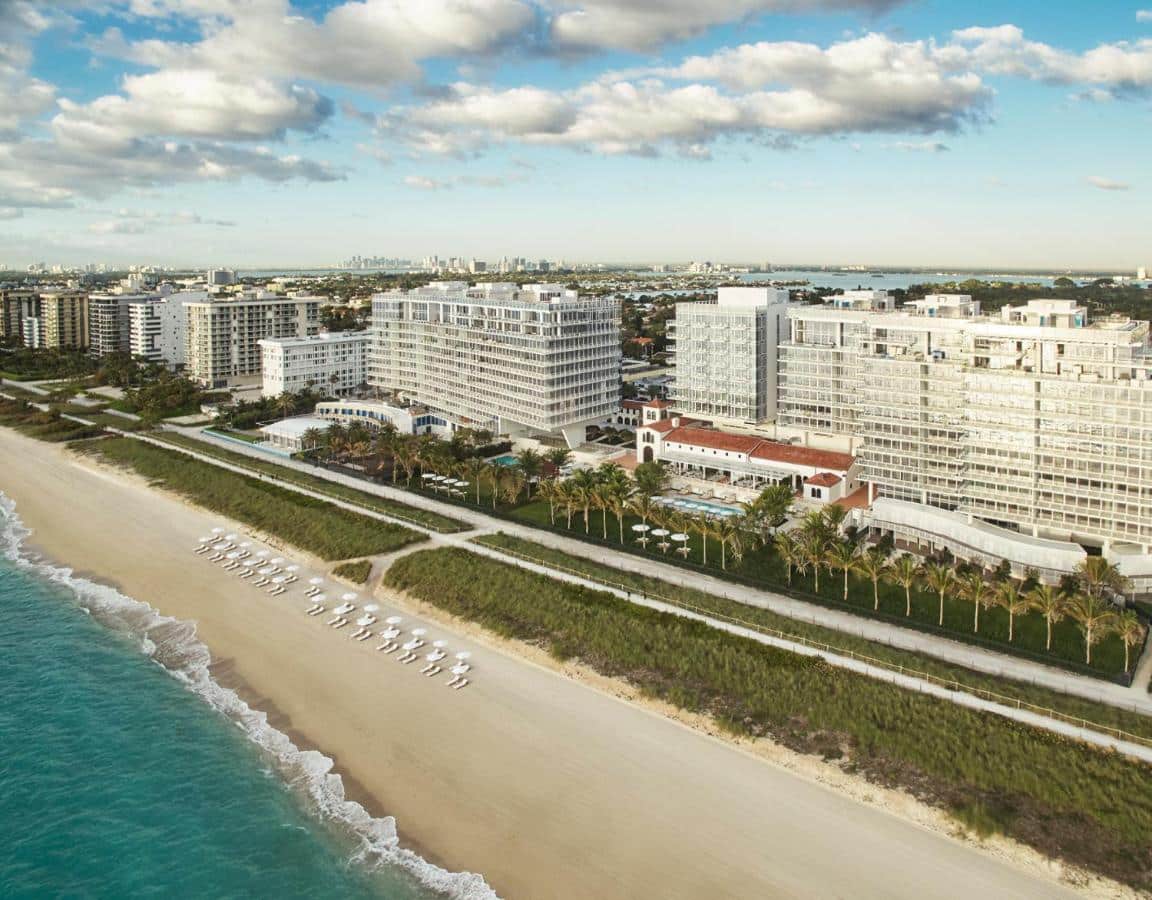 Nestled along the pristine shores of Surfside, Florida, the Four Seasons Hotel at The Surf Club beckons with timeless elegance and coastal beauty. This iconic establishment seamlessly blends the allure of its historic past with contemporary luxury. Guests are treated to a refined retreat adorned with exquisite Art Deco touches, offering an intimate ambiance that's as inviting as the ocean breeze. With private beach access, a lavish spa, and a dining experience that tantalizes the palate, this hotel is a sanctuary where classic sophistication meets the vibrant energy of Miami's shoreline.
2 - Acqualina Resort & Residences On The Beach *****
Elevating the concept of luxury beachfront living, Acqualina Resort & Residences On The Beach stands as a pinnacle of opulence in Sunny Isles, Florida. With its Mediterranean-inspired architecture and a private stretch of pristine shoreline, it offers an unparalleled retreat. The resort's commitment to personalized service shines through its attentive staff and world-class amenities, including three oceanfront pools, an award-winning spa, and gourmet dining that delights the senses. Whether you're unwinding in the lavish suites or exploring the meticulously landscaped grounds, Acqualina promises an experience of coastal splendor and refined relaxation that's second to none.
3 - The Setai Hotel and Residences *****
Indulge in a world of Asian-inspired sophistication at The Setai Hotel and Residences in the heart of Miami Beach. Renowned for its seamless blend of Art Deco architecture and Far East aesthetics, this luxurious haven offers a unique fusion of cultures. Guests can bask in the allure of three temperature-controlled infinity pools, each set at a different level of warmth, providing a sensory journey like no other. The hotel's commitment to wellness is embodied by its serene spa and exceptional dining experiences, where global flavors converge in a harmonious culinary symphony. At The Setai, every moment is an invitation to savor life's pleasures amidst an atmosphere of tranquil beauty.
4- Faena Hotel Miami Beach *****
Immerse yourself in a realm of artistic extravagance at the Faena Hotel Miami Beach, a true masterpiece located in the heart of the Art Deco District. This oceanfront gem redefines luxury with its captivating blend of bold design, theatrical flair, and contemporary allure. The hotel's masterpiece is the "Cathedral," a dazzling two-story event space adorned with a gilded mammoth skeleton. Indulge in culinary delights at award-winning restaurants, rejuvenate at the Tierra Santa Healing House spa, and witness live performances at the Faena Theater. A stay at Faena Hotel Miami Beach is an invitation to explore a world where creativity knows no bounds, making each moment an unforgettable spectacle.
5 - The Miami Beach EDITION *****
Discover a blend of urban sophistication and beachside allure at The Miami Beach EDITION. This modern retreat offers a seamless fusion of luxury and laid-back elegance. Boasting a private stretch of pristine beach, it invites guests to unwind in stylish accommodations with ocean or city views. The hotel's exclusive Basement entertainment hub, encompassing a nightclub, bowling alley, and ice-skating rink, adds a touch of vibrant energy to the experience. With its commitment to contemporary design, exceptional dining, and a lively atmosphere, The Miami Beach EDITION promises a dynamic escape that captures the essence of Miami's cosmopolitan spirit.
6 - 1 Hotel South Beach *****
Discover a hidden gem nestled in the heart of South Beach – 1 South Beach Hotel Miami. This boutique retreat offers a distinct blend of Art Deco charm and modern comfort, providing an intimate and personalized experience. With its prime location just steps away from the iconic Ocean Drive and the vibrant nightlife, guests can easily immerse themselves in the lively energy of Miami Beach. The hotel's rooftop terrace, offering breathtaking ocean views, becomes a serene haven to unwind, while the stylish rooms and attentive service ensure a memorable stay that captures the essence of South Beach's unique allure.
7 - The Palms Hotel & Spa ****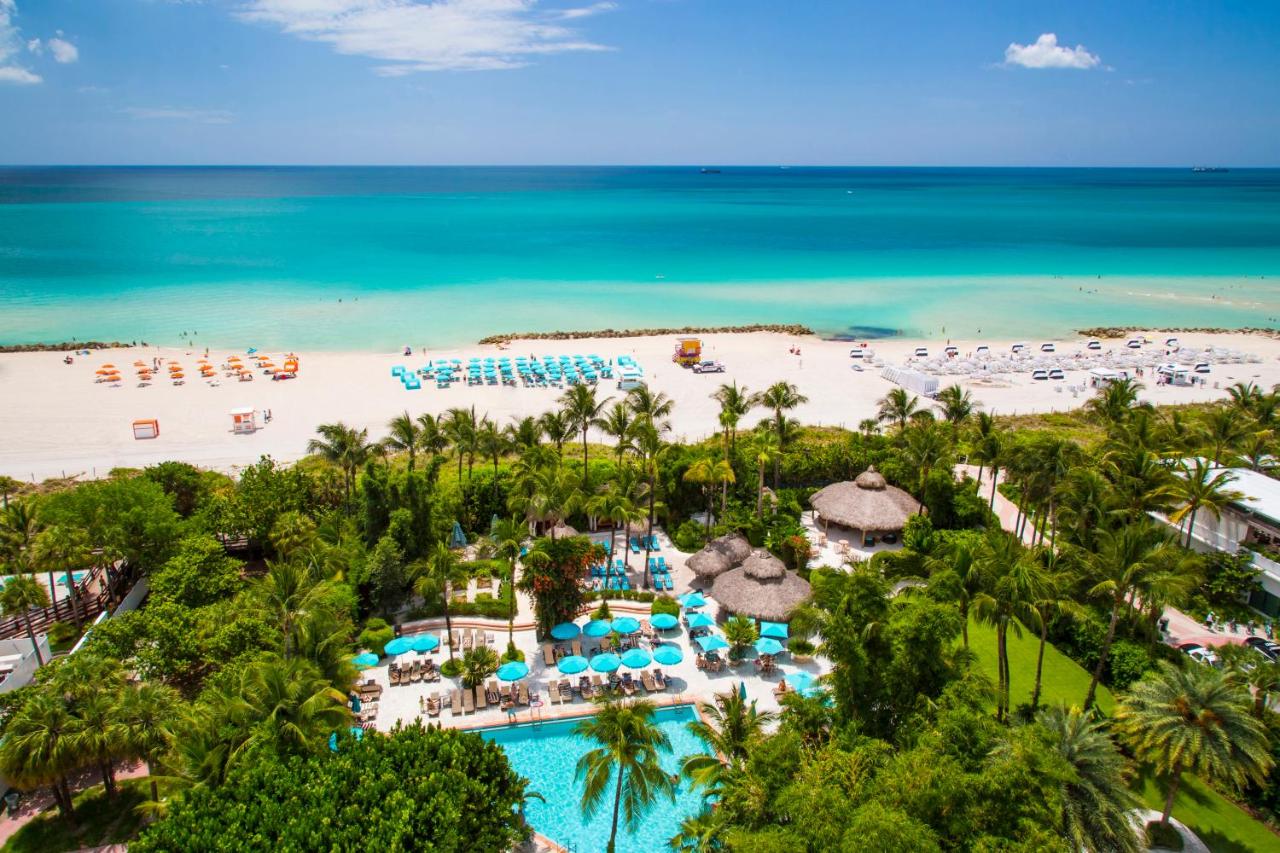 Escape to a tranquil oasis at The Palms Hotel & Spa, a hidden paradise nestled amidst the vibrant energy of Miami Beach. With its lush tropical gardens and direct beach access, this eco-friendly retreat offers a serene sanctuary. Guests can rejuvenate at the Aveda spa, where holistic treatments blend seamlessly with the soothing sounds of the ocean. The farm-to-table Essensia Restaurant showcases a culinary journey of sustainable and organic flavors, ensuring that every aspect of your stay at The Palms is a harmonious blend of relaxation, nature, and exquisite taste.
8 -The Goodtime Hotel ****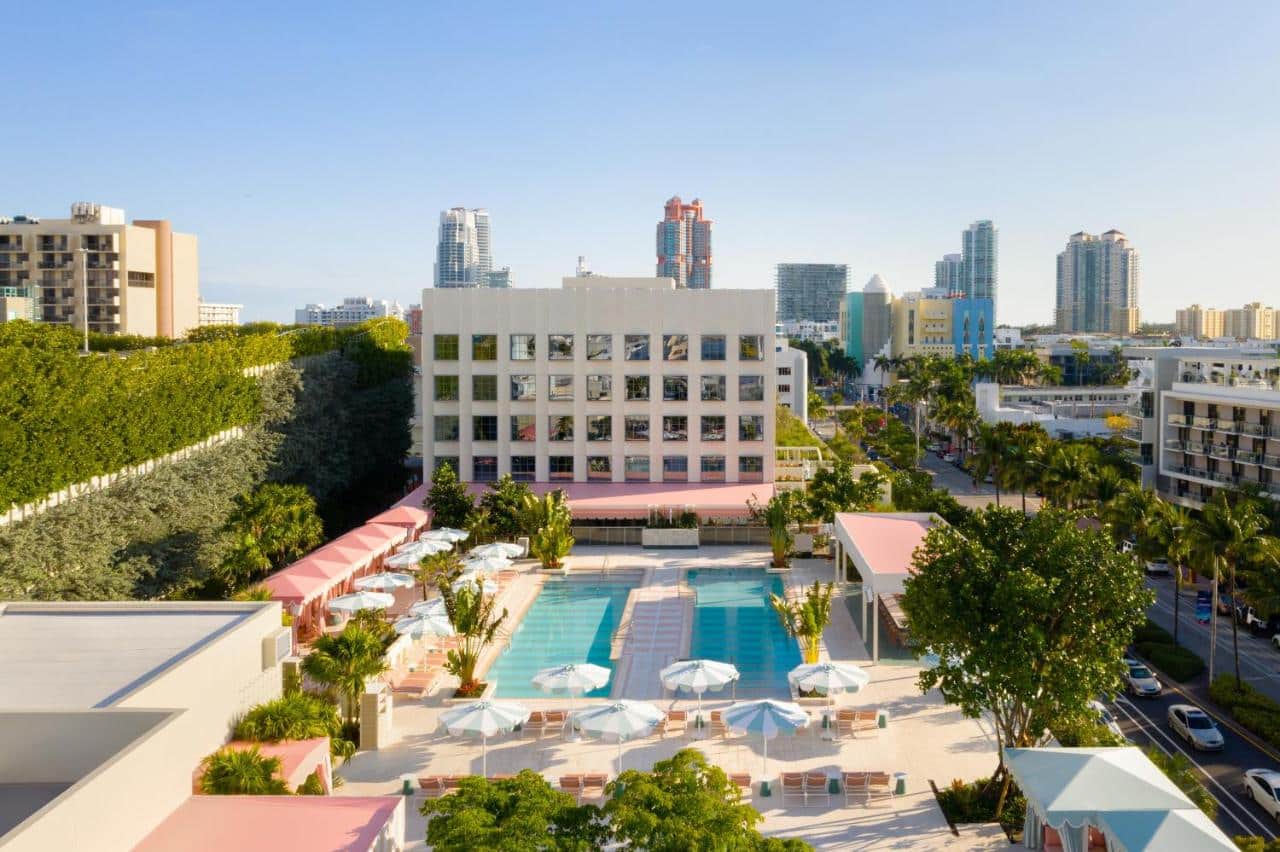 Immerse yourself in the vibrant charm of Miami Beach at The Goodtime Hotel. This contemporary gem, co-founded by Pharrell Williams, redefines hospitality with its playful spirit and artistic design. Guests can enjoy the Instagram-worthy pool scene, surrounded by pastel-hued cabanas and lush foliage. The hotel's Rooftop Lounge offers panoramic city and ocean views, while its central location ensures easy access to South Beach's iconic attractions. The Goodtime Hotel effortlessly captures the essence of a carefree Miami getaway, where every moment is a celebration of style and joy of living.
9 - The Standard Spa, Miami Beach *****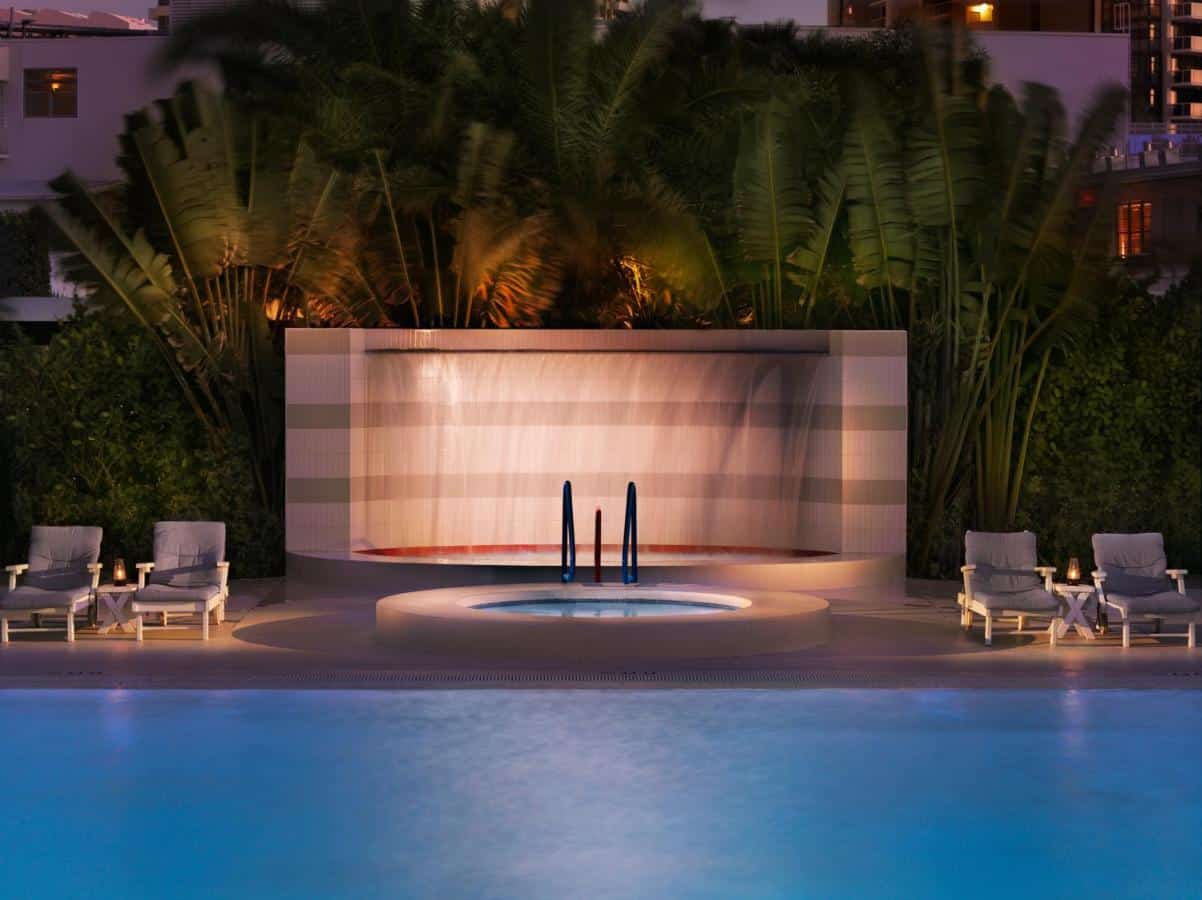 Unwind and rejuvenate at The Standard Spa, Miami Beach, where relaxation takes on new meaning. This holistic haven invites guests to embrace a wellness-centric escape on the shores of Biscayne Bay. Boasting an array of rejuvenating treatments, daily yoga sessions, and thermal hydrotherapy, it's a sanctuary designed to nurture mind, body, and soul. The hotel's serene ambiance, coupled with its renowned Lido Restaurant and tranquil garden paths, creates a serene atmosphere that encourages guests to disconnect from the world and embark on a journey of self-discovery and renewal.
10 - Loews Miami Beach Hotel ****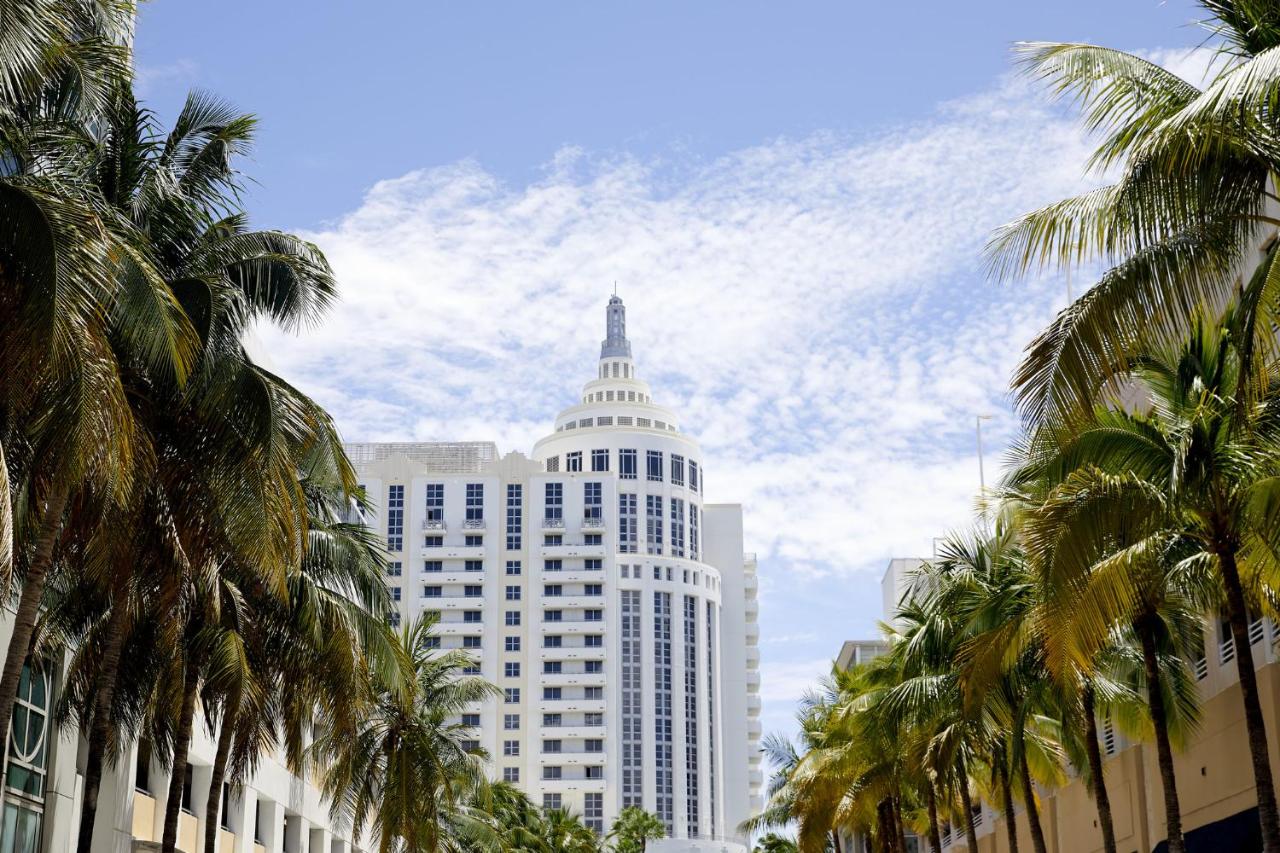 Experience the essence of Miami's vibrant coastal lifestyle at Loews Miami Beach Hotel. Situated in the heart of South Beach, this iconic hotel offers a seamless fusion of modern luxury and beachside allure. With direct beach access, a sparkling oceanfront pool, and an array of water sports, guests are immersed in the sun-soaked spirit of Miami. The hotel's Soak Cabanas and premium poolside experiences provide a haven of relaxation, while its prime location near Lincoln Road and Ocean Drive ensures easy access to the city's cultural and culinary delights. At Loews Miami Beach Hotel, the art of hospitality meets the rhythm of the waves, promising an unforgettable stay.
In the realm of Miami's Top beachfront hotels, a tapestry of luxury, serenity, and vibrant energy awaits. From the iconic to the hidden gems, each of these establishments offers a unique and unforgettable experience. Indulge in the splendor of Miami's beaches, immerse yourself in its diverse culture, and revel in the genuine warmth of its hospitality.
Whether you're seeking relaxation by the shore or adventure in the city's pulse, Miami promises an extraordinary escape that will leave you with cherished memories. With its charismatic allure, dynamic offerings, and a plethora of experiences, Miami stands as an irresistible choice for an unparalleled getaway that will etch moments of joy and delight into the fabric of your life. So, seize the opportunity to reserve your slice of Miami's coastal paradise and embark on a journey that will resonate in your heart for years to come.
More information about Miami : 
Others Top 10 Beach Resorts